Many political junkies have seen and know "Mr. Smith Goes to Washington".  A Jimmy Stewart classic where an all-American "boy scout" goes to Washington to find it doesn't meet his previous expectations.  Then with a little elbow grease, he cleans up Washington!
Not only is Mr. Smith Goes to Washington a fantastic film, one of my favorites, but it also depicts American values.  America was built by good men, should be run by good men and occasionally needs to be cleaned up by good men.  When looking through recent political articles I found a reference to someone depicted as another "Mr. Smith".  Jason Chaffetz, a freshmen member of the U.S. House of Representatives from Utah's 3rd District recently was titled a modern "Boy Scout" sent to clean up D.C. politics.
In recent stories by ABC news, CNN and even the Colbert Report, Jason Chaffetz has been called a Mr. Smith figure.  Living in his office on a cot, Chaffetz has decided to save some money while he deals with life and politics in these difficult economic times.  About Jason's cot sleeping ABC says this:
It's a recession version of "Mr. Smith Goes to Washington." Rep. Jason Chaffetz, representing Utah's 3rd congressional district, promises to vote like a fiscal conservative and to live like one.

Instead of renting a Washington, D.C., apartment, the Utah Republican plans to live in his Capitol Hill office to save money, while his family stays in their home in Alpine, Utah.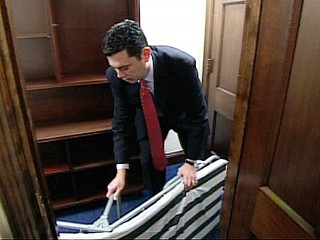 On the Colbert Report Jason Chaffetz plays Rock Band, Leg Wrestles and gets a facial!  As the new Congressman gets acquainted with Washington, one hopes that the desires to clean up Congress stick!  Good luck Jason Chaffetz and may others follow your example.
Watch: Mr. Smith Goes to Washington on DVD!
No related posts.